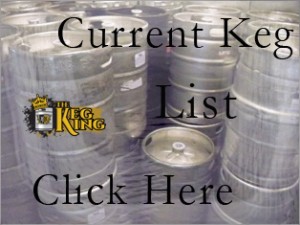 Call us today! +1 (954) 204-4211
The Keg King is the hot spot for the largest and best selection of Import, domestic, hand crafted and micro brews beers around by the bottle or by the keg. The Keg King is the easiest way to get cases of beer, beer kegs, ice, soda, wine, energy drinks in South Florida. You can pick it up or we will deliver it to your home, business, event, park, boat or where ever you want it, to celebrate reunions, graduations, birthdays, Holidays, funerals, sporting events, picnics or if you just like to taste of draft beer from the comfort of your own home. We deliver to Broward and South Palm Beach Counties, from Hallandale beach to Delray Beach and everything in between.
The Keg King has large inventory of parts to keep your kegerator running from new kegerators, tap handles, faucets and shanks, beer line cleaning kits, beer regulators, couples for imported or domestic beer, beer line hoses and much more.
We fill Co2 tanks on site
Holiday hours
Hours
Monday's Closed or by appointment only.
Tuesday- Friday 12PM to 7PM
Saturday 10AM to 6PM
Sunday 12PM to 5PM
+1 (954) 204-4211
952 S. State Rd 7Margate, FL 33068