Keg Information
We have access to over 1,500+ kegs! Please give us a call or send us an email (CLICK HERE) to make a request and/or to check availability. Need a last second keg? We do keep a variety of kegs on hand for same day purchase. Please call us at +1 (954) 204-4211 to see what we have in stock or Click here
• What do you need from me when I'm ready to pick up my keg?
Money. Lots and lots of money. Okay, here's the breakdown of what we actually need:
The purchase price of the beer
This is different for just about every kind of beer and size of keg, so check with one of our staff members. We accept cash, venmo, cash app, google pay and zelle as a form of cash payment. But if you still want to use your credit/debit card to get yourself points or sky miles, no worries we accept that too! The purchase of the beer is a non-refundable amount, so once you pay it, kiss it goodbye. We do not issue refunds for unused beer. If you don't finish off the whole keg at your party, bring it home! Host a neighborhood barbecue! Have a poker night! You aren't getting any credit for any beer left in the keg, so use it 'til it's gone, max 3 days.
The keg deposit.
Okay, this is cool: money that we give back to you! Currently, we charge a $35 deposit for each keg you rent. We prefer to hold cash for the deposit, but you can also use a credit card. If you bring back your keg on time and undamaged, we return your full deposit. You show up late, you might not get the whole amount back. If you hurt the keg, you're definitely gonna have to kiss that deposit bye-bye, so take care of it.
Tap & Bucket rental fee.
If you are renting the bucket and tap from us. It currently costs $7.00 to rent. This is a non-refundable amount that we like to keep and use to purchase frivolous items like fake dog poop and pixie sticks. We add this to your keg purchase price, and you can pay it via the same methods listed above.
The tap deposit.
Again, we only need this if you're renting a tap from us. The current rate is $45 per tap. This amount is added to your keg deposit, and is treated exactly the same.
The bucket deposit.
We want to make sure you are not keeping our cool yellow buckets to put in front of your house to make it look better than it does. We will be holding your $20 hostage and will be added to your keg deposit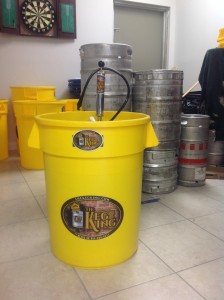 Still Confused?
Short version.  It will cost you $7 to rent the Keg/Tap and bucket.  We will hold a total of $100 to make sure you bring it back.
• Some other pouring options
We have Jockey boxes and what my wife calls them "Beer Gardens" for your party needs.
Jockey Box Rental Fee $40 per day plus $200 deposit for box and $24.99 Per Day for CO2 Tank & Regulator with a $150 deposit
Beer Garden Double Tap Rental Fee $86 per day plus $200 deposit for box and $24.99 Per Day for CO2 Tank & Regulator with a $150 deposit and $40 deposit for buckets
Beer Garden Triple Tap Rental Fee $106 per day plus $200 deposit for box and $24.99 Per Day for CO2 Tank & Regulator with a $150 deposit and $60 deposit for buckets
• When do I have to return my keg?
We usually like our kegs and equipment back within 3 days of the original pick-up date.  This does not apply to kegerator owners! If you bought or are going to buy a kegerator, how exciting!! Cold draft beer from your man cave or woman's den.  If you don't have an empty keg to exchange for a new one, you will be charged $35-$50 depending on the type of beer you want, and you can keep it as long as you want or till the fat lady sings.  Getting back to non kegerator owners.  Longer terms can be negotiated with our manager, but he's really tough. We check our records regularly, and will cash in any deposits remaining in our keg books after 7 days. You will be charged $5 bucks a day if the equipment is not returned within the 3 day rental period.
Please make sure we are all quite clear on the terms of your rental. Have a good idea of when you'll be ready to bring the keg and any extra equipment back?  Just give us a call if you're not going to make it back within the 3 days so we don't have to worry about our baby's. We would be happy to work with you on that so you can finish your beer!!
• Do I have to bring my keg back personally? Can't my buddy drop it off for me?
If your buddy is 21 or older and willing to bring your keg and supplies back, we are more than happy to receive them from him or her, AS LONG AS they still have the appropriate information for the keg.
When you pick up the keg, we'll ask you for the name of the person returning the keg and any related supplies; if someone brings in a keg and their name isn't listed for that transaction, we will refuse the keg and any equipment. If they are the designated party, they will personally receive back any deposits in exchange for the keg(s) and any equipment they return.